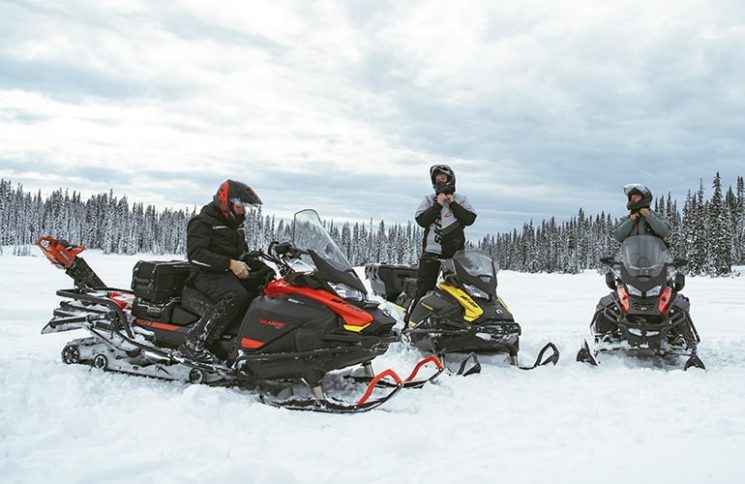 Lynx
Figliomeni Sports is a proud BRP Lynx snowmobile official dealer. The Lynx lineup features 4 different categories of snowmobiles which range in performance and function: Crossover, Deep Snow Sport, Utility and Sport.
Get to know the 2022 lineup
Crossover
2022 XTerrain
Challenges are ingredients for achievements! Conditions spice up the experience. XTerrain is a snowmobile with a unique combination of performance, resilience and uncompromising adventure features.
2022 Commander
Get ready for new discoveries aboard the Commander! It rides like a sports snowmobile and floats like a wide track. It tows and carries whatever you need. It's rugged, dependable, contemporary and versatile.
2022 Adventure
Lynx Adventure provides memorable winter experiences for the whole family. Regardless of the length of the trip, enjoy easy handling and advanced engine technology and get a kick out of your riding experience.
Deep Snow Sport
2022 BoonDocker
Be the hero of the deepest snow and appreciate every day of riding to the fullest. Lynx BoonDocker will change your views on the things that can be done on snow.
Utility
2022 49 Ranger
The 49 Ranger snowmobile prospers in journeys through forests and fells in varied snow conditions. Its agility, snow capability and ability to perform are truly unmatched.
2022 59 Ranger
Great features and great value. The Lynx 59 Ranger wide track snowmobile is easy to use and a delight to ride. With the latest engine technology and its great snow capability, the 59 Ranger provides masterclass versatility.
2022 69 Ranger
The Lynx 69 Ranger snowmobile offers a new level of performance and manoeuvrability. It is the ultimate ruler of the super-wide track category.
Sport
2022 Rave
The Lynx Rave is a pure-blood sports snowmobile that's been specially designed for Nordic conditions and to perform on racetracks just as much as on the most demanding trails.
---
Start shopping now for your 2022 Lynx snowmobile and be ready for next season. New adventures await!